Playstation 2 – SCPH700xx V12
Modbo installation diagram
Find on this page the installation diagram for Playstation 2 SCPH700xx aka V12 for Modbo 3, 4 to 5.
+ Some pictures of installation have done on this model using alternative point on some model for challenge.
Please note on this model a fix is need to avoid laser lens destruction.
Summ0ne fix is the fix that I do on this model.
This model is compatible with SD Mod card, so on specific picture there is additionnal component of the SD Card reader installation.
The v12 (and v13) are compatible with flex resurrector to allow your console to use iDE capacity of the PS2 on PS2 Slim.
Motherboard rev number can correspond for installation.
Another check to be sure it's a v12 or v13, near to USB on the top of the motherboard, on V12 there is NO component like on the picture below: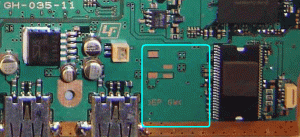 TL;DR:
V12 -> no component in rectangle
V13 -> components in rectangle (some Sony laser fix)
PAL
SCPH-70002 (GH-035-61)
SCPH-70003 (GH-035-61)
SCPH-70004 (GH-035-61)
NTSC-J (Japan)
SCPH-70000 (GH-035-11)
SCPH-70006 (GH-035-11)
SCPH-70007 (GH-035-11)
NTSC-U/C (USA)
SCPH-70011 (GH-035-21)
SCPH-70012 (GH-035-21)